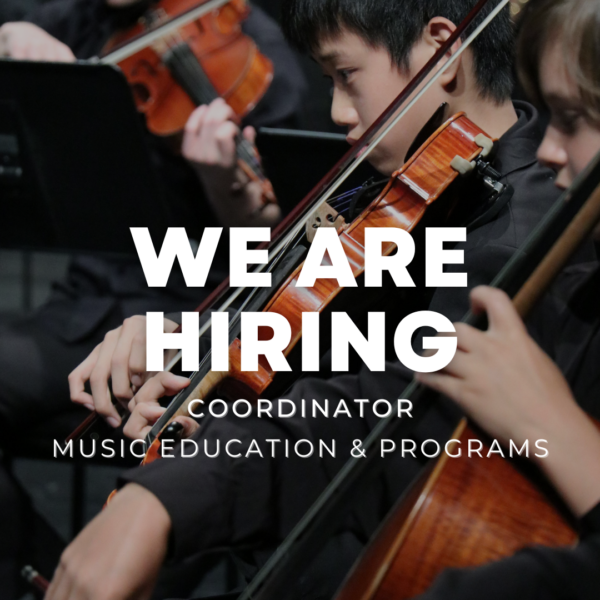 Two Part-time Positions, 15 hours per week each – Ongoing, including evenings and weekends
LGA Level 5
Do you have a passion for music education and an interest in how music can impact people's lives? If so, we'd love to hear from you.
Penrith Conservatorium of Music, at The Joan, is on the lookout for a Coordinator, Music Education & Programs to play a vital role in supporting and developing music education and new music engagement programs across genres.
Working as part of the Music team, the Coordinator, Music Education & Programs, implements, and supports music education programs with a focus on the Penrith Youth Orchestra (PYO) which is delivered in partnership with Penrith Symphony Orchestra and the Australian Chamber Orchestra as well as individual tuition, group classes and ensembles.
With day-to-day delivery responsibilities including regular evening shifts in the Box Office to support Penrith Con services and PYO Sundays, the role implements and supports the PYO Program and other music education programs with an aim to increase access to, and understanding of, music performance and career pathways whilst also enabling the highest level of visitor experience for all teachers, students, parents, and partner organisations.
The Coordinator, Music Education & Programs, also assists in supporting links to of a range of music programming and engagement strategies via Penrith Con, community, commercial and entrepreneurial programs.
Penrith Con and The Joan are part of Penrith Performing & Visual Arts, which also includes Q Theatre and Penrith Regional Gallery, Home of The Lewers Bequest.
To apply please send a current CV detailing your experience, availability and including contact information for at least two referees to Cath Dadd, Director, Music at Cath.Dadd@penrith.city.
For more information about the position, please contact Brian Kjim-Lauratet, at brian.kjim@penrith.city or (02) 4732 8686.
Download the position description here
Closing Date for applications: 11.59pm Sunday 28 August

Access, Equity & Inclusion
PP&VA is committed to creating an inclusive workforce which reflects the community we serve. We welcome and encourage applications from all people regardless of age, gender, ethnicity, cultural background, disability, or sexual orientation. We will provide reasonable adjustments in our recruitment process and in the workplace.
Please note that all staff must be fully vaccinated in line with PP&VA Policy. Please be prepared to provide your proof of vaccination.